CE-marked Smoke Extract for Unite Newgate
Newcastle, UK – A CE-marked Smoke Extract system, in the form of CASWELL FIRESAFE® non-coated fire rated ductwork, has been installed at the new Unite Newgate Student Accommodation in the heart of Newcastle.
Newgate Court houses some 575 students in Studios or en-suite bedrooms with shared kitchen & living space, over 6 floors. The property is superbly appointed and features a large reception, media room, gym, laundry, lounges and other social spaces.
This accommo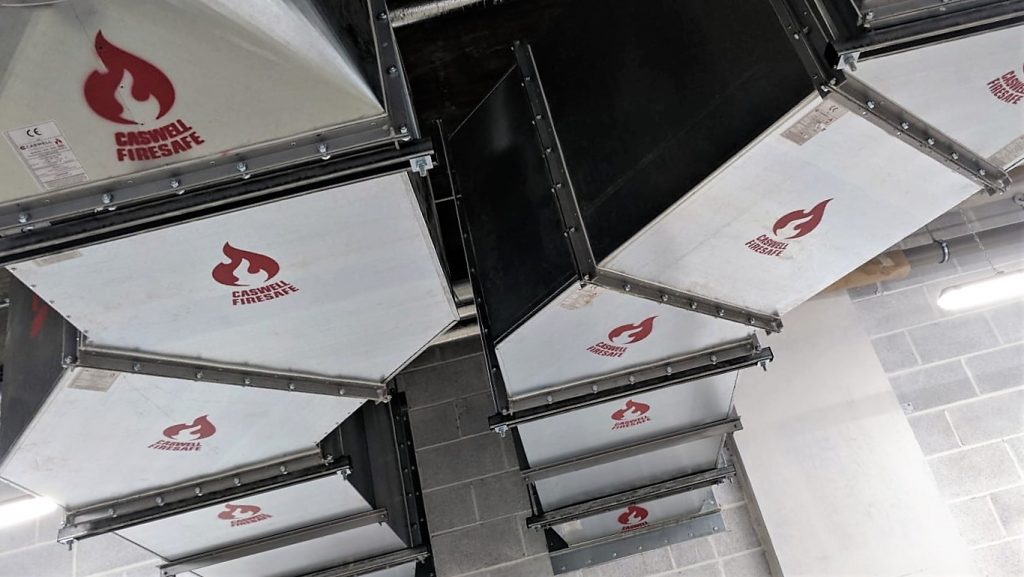 dation, by its nature, houses a large, ever-changing cohort of students from all over the world. Unfamiliar surroundings and the obvious risks of student life – not least the cooking risks associated with self-catering – make it essential that a proven, reliable smoke extract system is specified. This CASWELL FIRESAFE® system is designed to maximise precious 'escape time' and aid the safe egress of occupants via protected, smoke-free escape routes. Conversely, it allows fire-fighters safe access to facilitate evacuation and tackle a fire, should the worst happen.
The Smoke Extract system, which meets the test requirements of EN1366-1 & 8, was manufactured and installed by FFRDL Licensed Partner, C.Caswell Engineering Services Ltd.
It is mandatory for ductwork manufacturers supplying the European construction industry to draw up a declaration of performance and apply a CE-mark to their products. The legislation can appear complex and difficult to navigate. Industry body ADCAS (Association of Ductwork Contractors & Allied Services) is often asked to clarify the 'rules' by Building Engineering professionals but, in essence, Smoke Extract ductwork must be CE-marked to meet the requirements of the Construction Products Regulations.
Life-safety demands the highest standards. Expert advice, certified manufacture and fully-qualified installation providers are crucial.
For all your CE-marked ductwork installation needs (or queries), you would be wise to speak with us.
Back to News