New International Partner for FIRESAFE Fire Rated Ductwork Ltd
KL, Malaysia – Mark Harrison, Commercial Manager at FIRESAFE Fire Rated Ductwork Ltd was in Malaysia recently to seal an International Partner agreement with Prudential Engineering Sdn Bhd, part of the PrudentAire® organisation.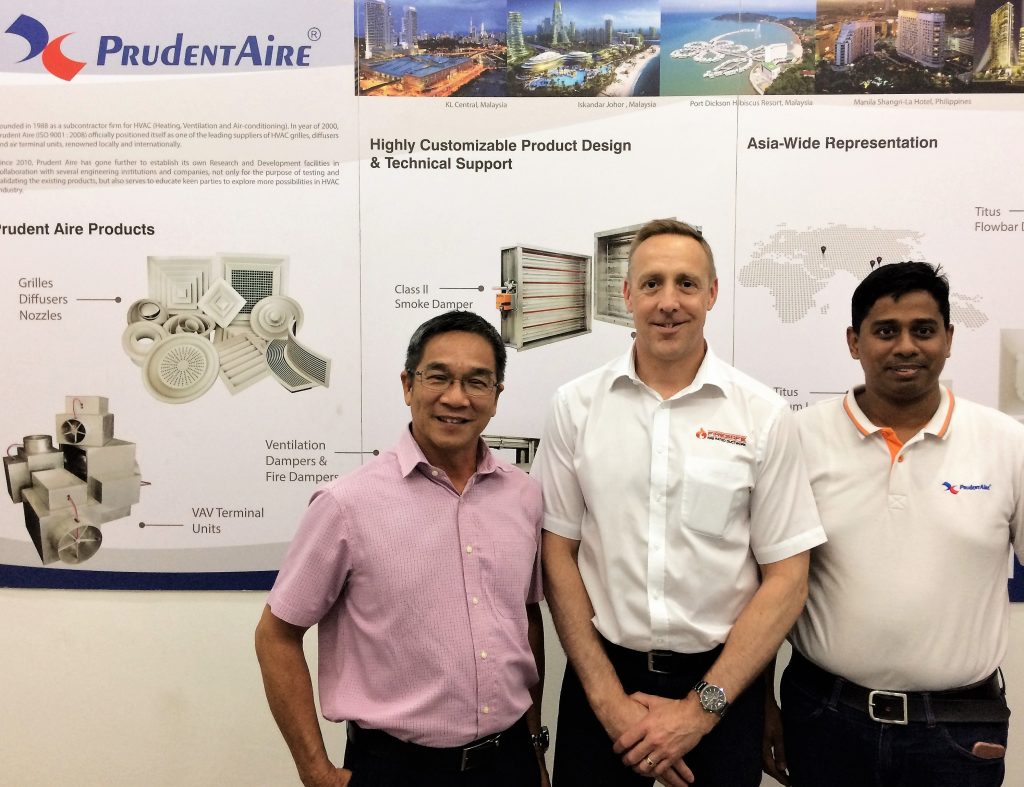 Mark is shown visiting PrudentAire's Owner, Tung Kum Weng and R&D Consultant, Veerendran M following a successful meeting at the AHR Show in Las Vegas, USA earlier this year.
Prudential Engineering are now licensed to manufacture and distribute CASWELL FIRESAFE® ductwork. Designed, constructed and tested to the highest international standards – including ISO and BS476 : Pt 24 – these systems will be specified and installed on many upcoming, prestige developments in the region.
PrudentAire is the holder of a 'Power Brand Malaysia' Mark Of Quality award. Their projects focus on landmark buildings including Office, Hotel-Casino and Retail complexes and Transportation hubs.
Prudential Engineering was keen to sign up to this exciting new partnership venture, as the ability to offer CASWELL FIRESAFE® fire rated ductwork in this market will further accelerate profitable growth in the region.
Chairman, Richard Coxen commented "Quality, style and reliability are key to PrudentAire's success to date and customer satisfaction is the highest priority. Obviously this is a vision we share at FIRESAFE Fire Rated Ductwork Ltd and so it was a big factor when choosing our newest International Partner".
Go here to read more on our International Partners (Page opens in new Tab)
Back to News