What We Do
FIRESAFE FIRE RATED DUCTWORK Limited have 3 main areas of responsibility
Continuous development of the CASWELL FIRESAFE® product
Growth of the business by developing and expanding our network of international Partners
Support our existing Partners to enable them to provide 'best in class' performance
FIRESAFE FIRE RATED DUCTWORK Limited are responsible for the development of the CASWELL FIRESAFE® product to ensure that it is current and meets the relevant standards of fire protection.
Our staff take an active role within the Fire Protection and Ductwork industry sitting on ASFP  BESA and BSI committees. This ensures that we remain at the cutting-edge of developments within our industry.
Our market leading product and best-in-class specialist technical knowledge are the key success factors for our business.
We have a mission to develop the CASWELL FIRESAFE® brand worldwide. We are actively seeking new Partners across the globe to add to the solid portfolio of our existing Partners in the UK, EU, Asia, the Middle East and the USA.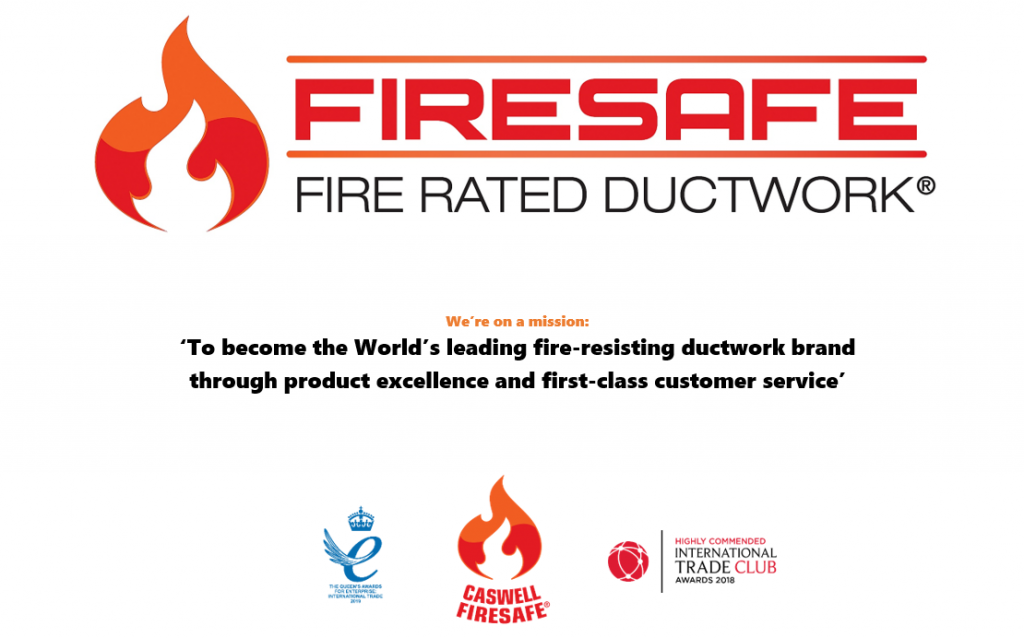 We work very closely with our Partners and ensure that they are well-trained and fully supported so that they can consistently maintain an unrivalled performance to their customers. A major success factor is the high level of practical and specialist technical knowledge that our Partners hold. We provide a full range of services in support of all our licensed Partners and, where required, their clients in order to ensure compliant, certified systems are installed. These services include;
Full design including advice on ductwork manufacture, support systems, insulation, penetration seals and installation
Quality Assurance and Inspection Systems for certification purposes
Training & Continuous Professional Development seminars
Product Research & Development
Compliance Visits and Audits to all licensed Partners
Development of the CASWELL FIRESAFE® brand through new Partners
Provision of quality ancillary branded materials and products
Contact Us