JAKE BERRY MP, 'NORTHERN POWERHOUSE' CABINET MINISTER, VISITS CASWELL GROUP
Haslingden, UK – The Right Honourable Jake Berry MP, Minister of State for the Northern Powerhouse and Local Growth was a welcome guest at our Haslingden base recently.
Back in July, as our local MP for Rossendale and Darwen, Mr Berry was invited to help celebrate Firesafe's Queen's Award presentation. Unfortunately he was otherwise engaged with important affairs of State in Parliament. He did however make good on his promise to visit us when events allowed.
Fellow Directors, Richard and Charles Coxen escorted the Cabinet Minister on a tour of our manufacturing facility and offices to illustrate our Group's proud involvement in providing ventilation products – including CASWELL FIRESAFE® non-coated fire rated ductwork – for a range of UK and international projects. This was naturally interspersed with discussion of wider issues for Northern businesses, which Mr Berry is keen to support.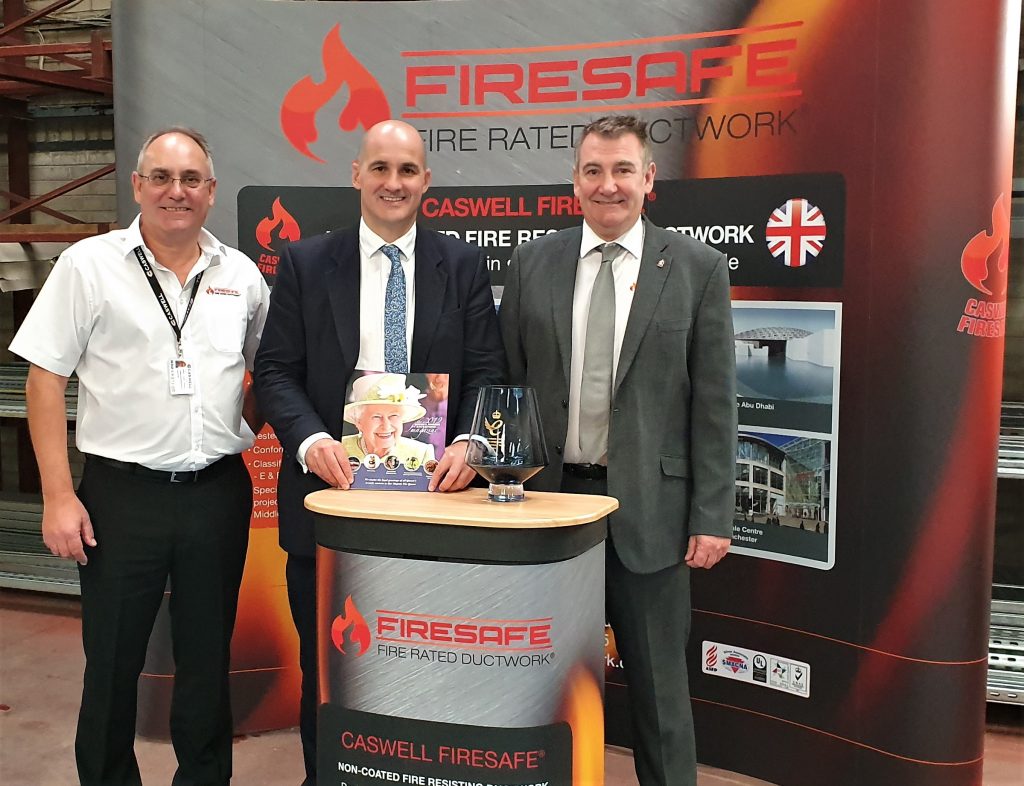 Mr Berry is pictured holding a copy of the official Queen's Award 2019 Magazine and is flanked by Charles Coxen (L) and Richard Coxen (R) in front of one of our Firesafe Fire Rated Ductwork exhibition stands. Our magnificent blue crystal Queen's Award trophy sits (nervously) on the podium.
Back to News